What to expect, when you're expecting a shipment
Thank you for your interest in Accessibility Professionals Inc. We are committed to keeping our customers informed throughout the entire process of purchasing a Freedom Shower or other product, and this guide will help prepare you for receiving your delivery. If you have any questions, please call a customer service representative at 1-877-947-7769
Once your order for a Freedom Shower or other product has been placed with us and payment has been received, orders are sent to the factory to begin processing. Some products require a submittal form signed before production can begin (typically showers with factory installed accessories and handed features). Click here for more information on LEAD TIMES.
When you place your order you will need to tell us what type of delivery location we are shipping your order to, from one of he following selections:
Commercial delivery: Shipping to a business in a commercially zoned area. Lot has a receiving area, raised loading dock or forklift onsite, and room for a tractor trailer to turn around easily. A business that is run from your home does not qualify for commercial shipping. If the receiving address doesn't have a raised loading dock or forklift on site, you can request to add a Liftgate service to your delivery.
Residential delivery: Standard residential delivery includes curbside delivery to your home by a full sized tractor-trailer with a liftgate. This means the truck will get as close as possible to your driveway and will lower the freight down from the truck on the lift gate. Customer is responsible for moving the pallet or packages from the truck's liftgate into your home or garage. It is not the drivers responsibility to unload, move or assemble the shipment. Please arrange to have help onsite to move the shipment from the curbside to a secure location. All shipping addresses need to be accessible for a full sized tractor-trailer, meaning roads must be paved, have no low hanging wires, narrow roads or dead ends to impede access.
NOTE: The freight companies that are contracted to make deliveries for us each have their own policies and regulations that we must honor. Unlike parcel delivery companies (Fedex, UPS, etc.), common freight carriers only provide dock-to-dock service or curbside delivery where the driver does not touch the freight.
Before packaging, your Freedom Shower is factory tested for quality. Then it is packaged, crated onto a pallet (showers only), and shipped via the freight carrier chosen by the factory.
Once your order has shipped, we will receive tracking information and forward those details to the contact person you have listed on your order, usually via email. You can use that information to contact the freight carrier directly to find out delivery dates and arrange for someone to be onsite to receive the shipment.
Freedom Showers and pans, and T series showers ship from Savannah, TN. Other products ship from various factories, mostly throughout the US. Some accessories ship from Canada.
Transportation times vary depending on travel distance, weather conditions, or freight company routes. Please be advised that delivery delays may occur that are beyond the control of the shipper/seller. We cannot be held responsible for delays due to accidents, strikes, riots, labor stoppage, climatic conditions, unavoidable casualties, or other causes interfering, obstructing or blocking the usual routes of transportation.
You should continue to track your shipment or call the freight carrier for updates in case of changes on route.
RECEIVING ORDERS
1. Please make sure an able-bodied person will be available to inspect and sign for the delivery as it arrives.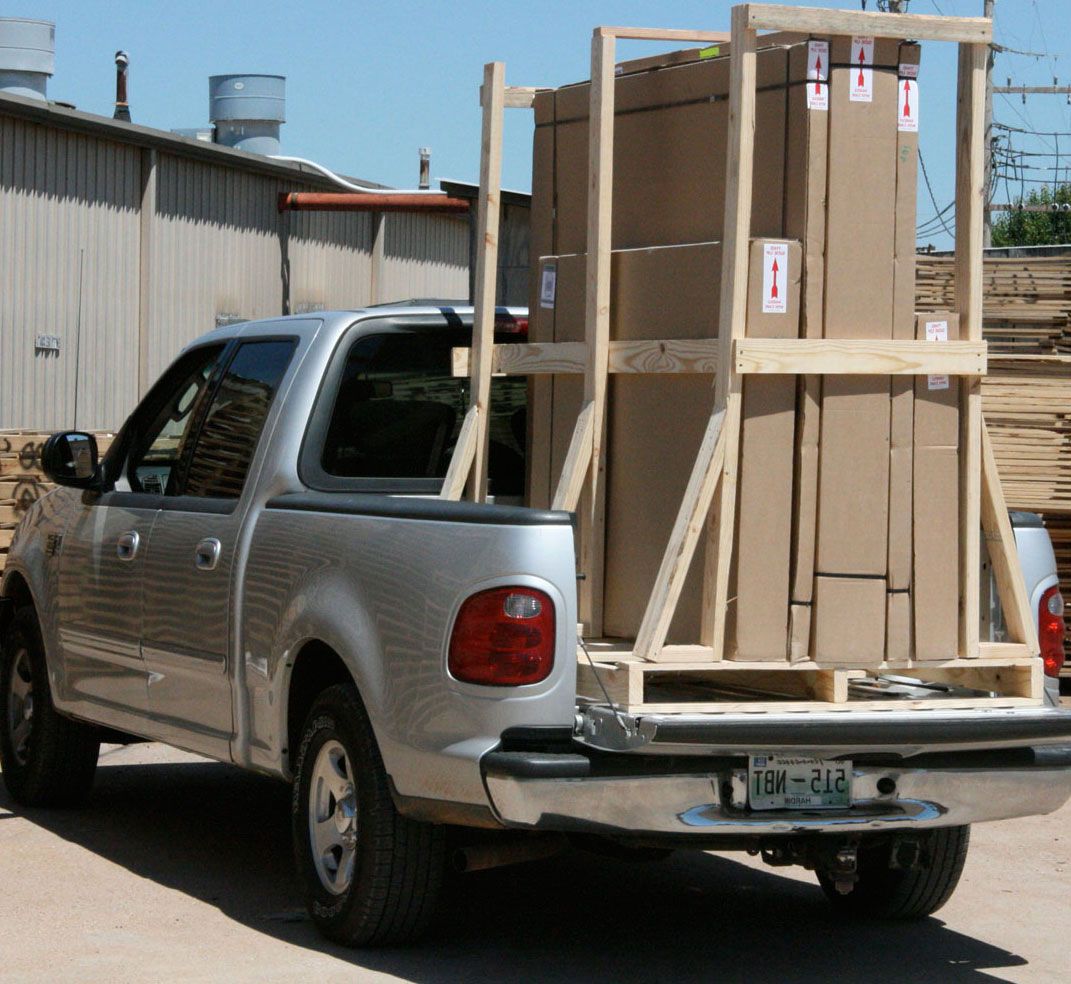 Your Freedom Multi-piece Showers should arrive to you looking something like this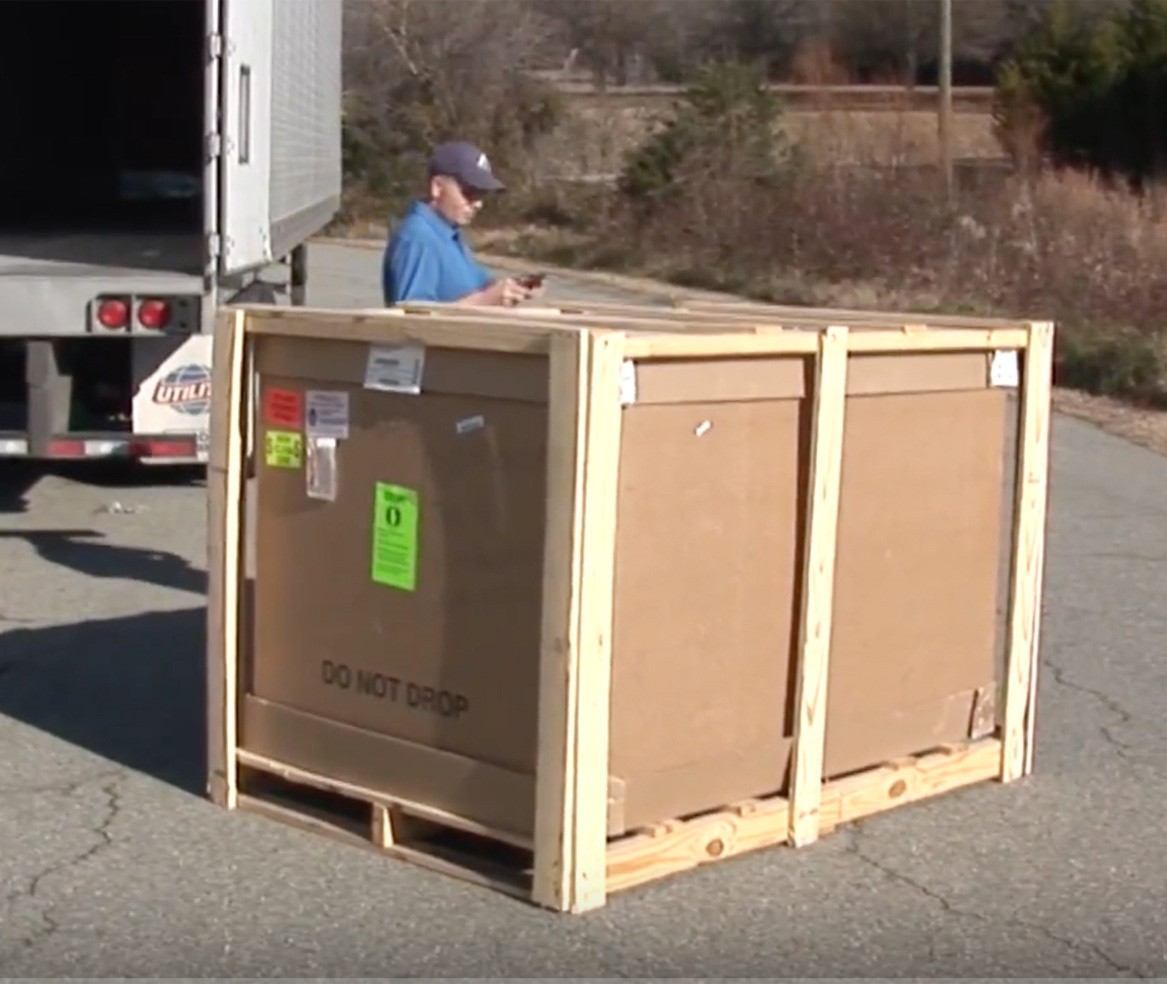 A Freedom Easy Step 3 Piece Unit will arrive to you like this
2. Products are inspected and in excellent condition when they leave the shipping dock. Any damage to products on route is the responsibility of the freight carrier. In order for the shipper to make a claim for damaged shipments, and therefore get quick replacement units sent out to you, we ask that you follow these instructions. Customers must inspect the shipment upon delivery, prior to signing delivery documents. Product found to be DAMAGED UPON INSPECTION MUST BE REFUSED and not received from the carrier.
3. The receiver must notify the purchaser or contact Accessibility Professionals Inc.'s Customer Service at 1-877-947-7769 to report a refused shipment. Please let us know as quickly as possible, so we can get a new unit shipped to you. Please have your customer number (found on quotes, receipts and invoices) when you contact us for quickest service. Claims for shortages or incorrect shipments must be noted on the bill of lading with the driver upon delivery, and filed with our customer service department within 48 hours of receipt. Claims after 48 hours might not be honored.
4. Once you have received & signed for your shipment, please fully unpack/open packages to inspect your products. Make sure you have received the correct product(s) and that there are no issues.
Delivery process is the same for any replacement shipments as well.
(Please read our Terms and Conditions, and/or the receiving notes on your receipt or quote for official delivery responsibilities and conditions.)